Las Vegas Chinatown Plaza
Location Type:
Architecture
Buses
Businesses
Gardens
Landscape
Restaurants
Sets
Stores and Shops
Towers
---
---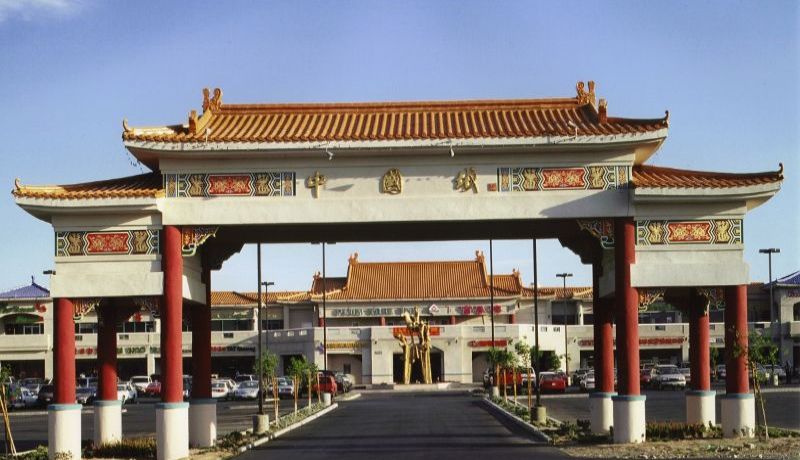 Location Details
Chinatown
Las Vegas Chinatown Plaza
Along Spring Mountain Road in Spring Valley is a series of strip malls with ethnic Chinese and other pan-Asian businesses, with the original called Chinatown Plaza. Historically, the strip mall was conceived by Taiwanese American JHK Investment Group, Inc. and opened in 1995. Nevada Governor Kenny Guinn officially designated the area as Chinatown in October 1999 and it continues to grow as the Asian population in Las Vegas expands rapidly. The Chinatown area has gained much popularity, receiving national attention in a 2004 article by The Wall Street Journal (See Further Reading below for the specific citation). Huffington Post classifies Las Vegas Chinatown along with Atlanta-Chamblee, Dallas-Richardson, and North Miami Beach as a "modern" styled Chinatown, that contrasts with the historic core Chinatowns like New York and San Francisco. The Chinatown is pan-Asian in nature instead of being completely Chinese according to the previous source. The official website for the Chinatown Plaza indicates that Spring Mountain Road is the general corridor for the neighborhood.
The history of Chinese population in the Las Vegas Valley shows that the Chinese population remained small throughout most of its history. As a result, a Chinatown could only be created with initiative from entrepreneurs that would in essence fabricate a scenario that came naturally in other large cities that have historically important Chinatowns. According to Tsui in her book, Las Vegas's Chinese population boomed starting from the 1960s and by the 1990s, the Chinese population grew to 15,000 with the majority working in the casino industry. Even as the population grew, the "Chinatown experiment" could not rely on the local Chinese population to create it, but relied on a label on the plaza itself before people knew it was "Chinatown". As a saleswoman visiting the Chinatown answered "How do I know this is Chinatown?" Her answer was "Because it says so right on the arch, in Chinese characters (Zhongguo Cheng)"
According to Tsui's book, Senator Harry Reid "... ordered a sign to be put up for Chinatown [along Interstate 15]..." but was taken down by the order of the governor of Nevada Bob Miller. In 1996, the Clark County, Nevada designated the area as "Chinatown".
Chinatown Plaza opened for business in 1995, by 1996 it was proclaimed by Clark County to be an "Asian Pacific American Cultural Center". WSJ featured Las Vegas Chinatown Plaza on April 28, 2004. Featured numerous times in the local newspaper "Las Vegas Review Journal" such as on April 21, 2016 & July 23, 2013.
In 2005, Chinatown Design Overlay District:
The Chinatown Design Overlay District is hereby established to protect the Asian character of Chinatown Area by using additional design standards.
The purpose of this overlay district for Las Vegas Chinatown is to physically and architecturally unify the existing and proposed development within the area, and to maintain the oriental character and the cultural heritage of Chinatown.
It is also the purpose of this Design Overlay District to assure the implementation of a comprehensive design review process through the use of the following criteria:
*Continuity by physical integration of architectural components
Photo Credits
Joe Shen

Photos Credit:

Chinatown Plaza, Inc.

Chinese New Year Celebration at Chinatown Plaza

Las Vegas Chinatown Plaza
Filmography
Local:

Many movies, short film, clips, introductory videos, youtube video clips, kung fu short films, modeling, import cars videos, DJ promo videos

International:

Farewell Las Vegas (China)

7 Days Alive (Hong Kong)
Location Map / Address
4205 SPRING MOUNTAIN RD
Las Vegas, Nevada 89102
Map It
Disclaimer:
The Nevada Film Office is not involved with final approval and/or permission to use a location for a production. Location fees, production shooting restrictions, rules and requirements are negotiated between the production and location management.
The information provided above is for the sole purpose of research by website visitors. Images and text may be copyrighted by individuals and cannot be used or reproduced without permission. No explicit permission is granted for website visitors to reproduce the content published on this web page outside the sole purpose of research.
If you would like more information about a filming location, you can fill out the "Request More Info" form below or call (702) 486-2711.
You can also visit our production directory if you would like to hire a location manager or location scout for further assistance. You can also find additional location support services in our online production directory.
Request More Info
If you would like more information about this property, please fill out the following form.