Thunderbird Boutique Hotel
Location Type:
Accommodations
Bars
Restaurants
---
---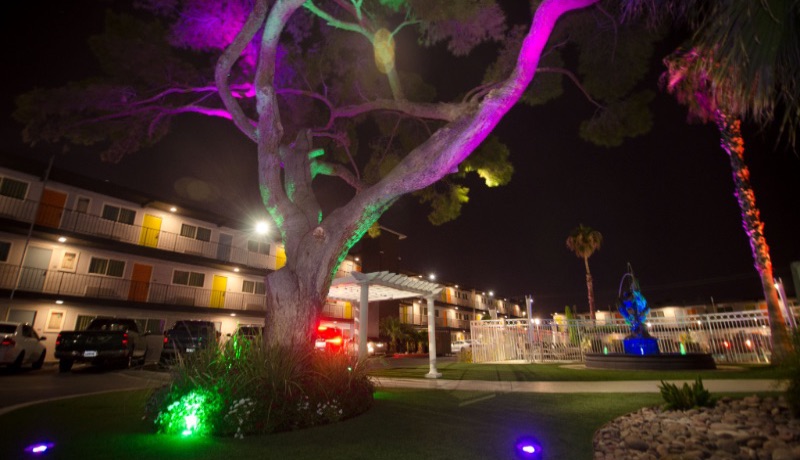 Location Details
Retro chic hotel along Las Vegas Blvd, with variety of filming/photography options.
Hidden between the famous Strip and downtown's Historic Fremont Street, our vintage-style hotel places you in the midst of the city's casinos, boutique shops, art galleries and clubs.
Property has open layout configuration, Luxurious pool suite with large windows overlooking the pool and the hotel rooms with clear view of the iconic stratosphere.
Elegant showroom that can also convert to a film/photography set, two recently built wedding chapels and a sexy spacious lounge providing wide range of film/photography options.
A retro industrial look lounge and a fire pit Patio overlooking the Las Vegas Blvd.
easily accessible and lots of parking space for any equipment truck or event actors caravan/bus.
Ceiling Height
Showroom approx. 30ft / 10mt, Lounge & Chapels approx. 13ft/4mtr
Website Links
Location Address
Private Address
Las Vegas, Nevada
Disclaimer:
The Nevada Film Office is not involved with final approval and/or permission to use a location for a production. Location fees, production shooting restrictions, rules and requirements are negotiated between the production and location management.
The information provided above is for the sole purpose of research by website visitors. Images and text may be copyrighted by individuals and cannot be used or reproduced without permission. No explicit permission is granted for website visitors to reproduce the content published on this web page outside the sole purpose of research.
If you would like more information about a filming location, you can fill out the "Request More Info" form below or call (702) 486-2711.
You can also visit our production directory if you would like to hire a location manager or location scout for further assistance. You can also find additional location support services in our online production directory.
Request More Info
If you would like more information about this property, please fill out the following form.