The Underground House
---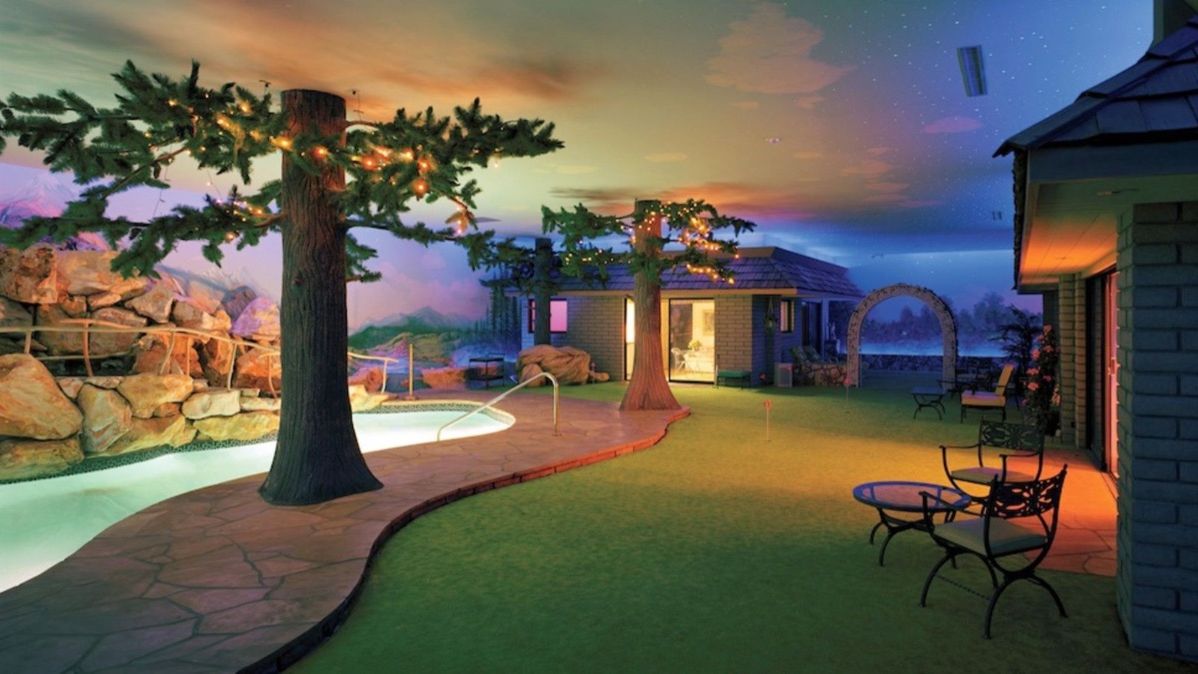 Location Details
If you were to look at this private Las Vegas home from the street, you probably wouldn't think much of it. It's fairly mundane, just a two-story house that looks like it was built sometime in the 1980's. However, 26 feet below the house is an amazing treasure.
​
The Underground House is over 15,000 square feet and comes complete with artificial trees, faux rocks, and life-like scenery which include hand painted murals with scenes from homes the original owner had around the world. The lights can be adjusted to imitate different times of the day and there are twinkling stars on the ceiling to imitate the night sky. This underground residence has a four-hole putting green, two hot tubs, a sauna, a dance floor, a bar, a barbecue, and swimming pool. The main house has two bedrooms and three bathrooms. There is also a casita.
​
This unique piece of Vegas history was built in the 1970's by Jerry Henderson, a businessman and philanthropist who was a director of Avon Products. He died in 1983. The décor of this home reflects the era in which it was built. In 1964, Henderson pioneered underground living and sponsored the Underground Home exhibit at the New York World's Fair.
Filmography
Miu Miu (Prada Group) Women's Tales #14 The End of History Illusion
Juno Calypso What to do with a Million Years
Location Address
Private Address
Las Vegas, Nevada
Disclaimer:
The Nevada Film Office is not involved with final approval and/or permission to use a location for a production. Location fees, production shooting restrictions, rules and requirements are negotiated between the production and location management.
The information provided above is for the sole purpose of research by website visitors. Images and text may be copyrighted by individuals and cannot be used or reproduced without permission. No explicit permission is granted for website visitors to reproduce the content published on this web page outside the sole purpose of research.
If you would like more information about a filming location, you can fill out the "Request More Info" form below or call (702) 486-2711.
You can also visit our production directory if you would like to hire a location manager or location scout for further assistance. You can also find additional location support services in our online production directory.
Request More Info
If you would like more information about this property, please fill out the following form.