Topaz Lake
Location Type:
Accommodations
Agriculture
Casinos
Landscape
Parks
Roads and Highways
Water
---
---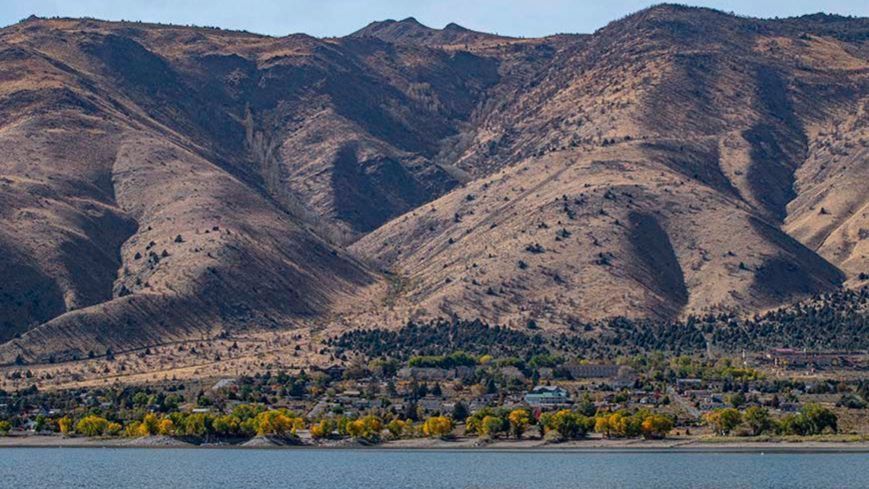 Location Details
If you're looking for a high desert lake with authentic rural setting, on the state line of California and Nevada, to use as a film location for your next production, be sure to check out Topaz Ranch Estates (TRE) and Topaz Lake in Gardnerville, Nevada!
Bordering south Gardnerville, Topaz Lake offers excellent fishing shores, resort casino, and perfect wide open outdoor recreation space. Topaz places you at the base of the eastern Sierra Nevada.
There are a multitude of filming locations in Topaz, including:
Topaz Lake is located off U.S. Highway 395 near the Nevada-California border, where you become engulfed in mountains. The lake is highly-prized by fishermen for its trophy rainbow and brown trout; however, it is equally as popular with water sports enthusiasts for its boating, jet skiing, paddle boarding and water skiing conditions.
Topaz Lake Park occupies 90-acres on the shores of Topaz Lake, a reservoir on the Nevada-California border about 20-miles south of Gardnerville. The park attracts anglers and water sports enthusiasts, and offers everything from traditional overnight camping grounds to day picnic spots. No matter where you land, Topaz grounds always offer phenomenal lake views. The park is a well-kept secret among birdwatchers. A pair of bald eagles nest nearby, while ospreys and pelicans are frequently seen. During the migration season, the park's location on the Pacific Flyway makes it an especially good bird-watching spot.
While most of the land is undeveloped, Topaz Lodge, a resort and casino property on the lake's edge provides and welcoming atmosphere. There is dining and lodging also available.
The town has an estimated population of: 157 people (in 2010)
Additional Keywords: agriculture, desert, lake, fishing, open land, casino, historic homes, old town, park, rural, rustic, views, western, landscape, restaurants, water
Other activities and attractions available to include in the production are:
Antique hunting
Art galleries
Camping
Dining
Fishing
Golfing
Hunting
Kayaking
Paddle boarding
Mountain biking
Sailing
Snowsports
Swimming
Schools
Theater
Film Permit
Douglas County does not issue film permits, but other approvals may be required depending on the location of filming or type of production.
Where do I start?
Depending on the location of filming, if you are blocking roadways, if you plan to use pyrotechnics, etc., approvals may be required. Start by contacting the Planning Technician at 775-782-6217 the Planning Department. You may be referred to another agency if your project is not within Douglas County's jurisdiction.
Want to use a park or facility?
Contact that agency about use requirements. Here's a list of agencies that may require a permit or fee to use their facilities.
Douglas County Parks
Town of Gardnerville
Filming on BLM or USFS Land? Contact-
Bureau of Land Management
United States Forest Service
Photo Credits
Zach Hooper: shore/lake/town, shore/houses, swing, wide shot with casino, casino, mountain background
First Tracks Productions: cover image, paddle boarder
Filmography
Although Topaz is small, it's considered part of the town of Gardnerville, which is no stranger to the big screen. The local J.T. Basque Bar & Dining Room can be spotted in the 2012 film Motel Life, starring Emile Hirsch, Stephen Dorff, Dakota Fanning, and Kris Kristofferson.
Parts of the classic 1989 film The Wizard, starring Fred Savage, Luke Edwards, Christian Slater, Jenny Lewis, and Beau Bridges, were also filmed in Gardnerville.
Location Address
Private Address
Gardnerville, Nevada
Disclaimer:
The Nevada Film Office is not involved with final approval and/or permission to use a location for a production. Location fees, production shooting restrictions, rules and requirements are negotiated between the production and location management.
The information provided above is for the sole purpose of research by website visitors. Images and text may be copyrighted by individuals and cannot be used or reproduced without permission. No explicit permission is granted for website visitors to reproduce the content published on this web page outside the sole purpose of research.
If you would like more information about a filming location, you can fill out the "Request More Info" form below or call (702) 486-2711.
You can also visit our production directory if you would like to hire a location manager or location scout for further assistance. You can also find additional location support services in our online production directory.
Request More Info
If you would like more information about this property, please fill out the following form.