Carson Valley Golf Course
Location Type:
Bars
Businesses
Landscape
Parks
Restaurants
Sports
Stores and Shops
---
---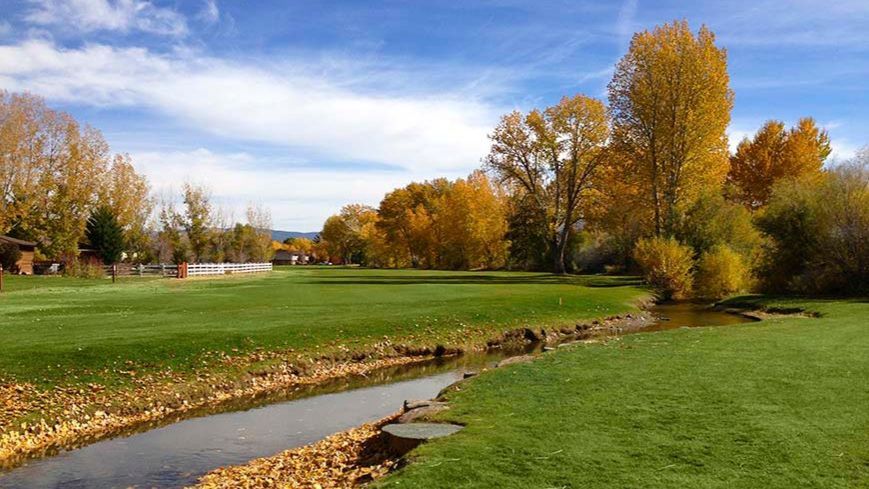 Location Details
Since 1965 Carson Valley Golf Course has been home to affordable, friendly golf. The cool rush of the Carson River and the shade from our giant cottonwood trees, give our golf course a very unique character. Our goal is to make golf fun! We have plenty of space for our serious golfers, but we want to make sure that you have a good time while you are here and leave with a smile on your face.
Don't let the yardage deceive you; it's a great challenge for golfers of all abilities. You get to hit across water
nine times over eighteen holes. Once a well-kept secret, the word is out, Carson Valley is a great place to live and play. Did we mention the beautiful views of the Sierras from the golf course, yes the Sierra Nevada mountains at Lake Tahoe, we get to enjoy their purple mountain majesty every day.
Location Details:
The golf course was built in 1965 and is 95 beautiful acres, located in the heart of Carson Valley. The Carson
River meanders right through it dividing it in 2 very picturesque pieces, with many views of the Sierra Nevada
mountain range.
Surrounding area accessibility:
The golf course is conveniently located 2 miles south of Gardnerville right off Hwy 395. There is parking at a
number of locations that allow for easy access to the course.
Men's Tees
● Par 71
● Yards 6,020
● Slope 117
● Rating 68.0
Ladies Tees
● Par 71
● Yards 4,677
● Slope 104
● Rating 63.1
Practice Facilities
A shaded driving range, (this is a recent upgrade along with new mats and a few unique targets to hit) and a
putting green with chipping area, give you plenty of space to warm up get ready for golf.
Grill
Lunch is served April thru October from 11 am to 2 pm.
During the winter season, we serve the best hot dogs in town and a large selection of snacks and drinks
Additional keywords: agriculture, bars, businesses, landscape, main street, mountains, open land, parks,
restaurants, rural, rustic, small town, scenery, storage, stores and shops, views, water, western, Gardnerville.
Other activities and attractions available to include in the production are:
● Dining
● Golfing
● Foot Golf
● Driving Range
● Practice Facilities
QUICK DRIVE
Consider us your filming base camp. Carson Valley/Douglas County is within a day's drive of southern
California, and half a day's drive from San Francisco and the Bay Area.
Venture out on a "quick drive" to these close by locations:
● 30 minutes from Carson City, Nevada's capital – museum, the Mint
● 30 minutes from Stateline at Lake Tahoe – beaches, water, ski resorts, hiking and biking trails
● 1 hour from Reno – shopping, the arts, international airport
● 2 hours from Sacramento
Film Permit
Douglas County does not issue film permits, but other approval may be required depending on the location of
filming or type of production.
Where do I start?
Depending on the location of filming, if you are blocking roadways, if you plan to use pyrotechnics, etc.,
approval may be required. Start by contacting the Planning Technician at 775-782-6217 the Planning
Department. You may be referred to another agency if your project is not within Douglas County's jurisdiction.
Photo Credits
Cover photo and the first six photos courtesy of Carson Valley Golf Course.
Filmography
Although Carson Valley is small, it is no stranger to the big screen. Filmology includes:
The Wizard, Casino Raiders, Showgirls, Charley Varrick, Chicken Every Sunday, Fatal Bet, Forty Pounds of
Trouble, Things Change, Trail of Tears, Welcome to 18, Motel Life, The Shootist, Honky Tonk Man, Misery, Till
the River Runs Dry.
Location Map / Address
1027 RIVERVIEW DR.
Gardnerville, Nevada 89460
Map It
Disclaimer:
The Nevada Film Office is not involved with final approval and/or permission to use a location for a production. Location fees, production shooting restrictions, rules and requirements are negotiated between the production and location management.
The information provided above is for the sole purpose of research by website visitors. Images and text may be copyrighted by individuals and cannot be used or reproduced without permission. No explicit permission is granted for website visitors to reproduce the content published on this web page outside the sole purpose of research.
If you would like more information about a filming location, you can fill out the "Request More Info" form below or call (702) 486-2711.
You can also visit our production directory if you would like to hire a location manager or location scout for further assistance. You can also find additional location support services in our online production directory.
Request More Info
If you would like more information about this property, please fill out the following form.