Carson Valley
Location Type:
Accommodations
Agriculture
Airports
Architecture
Auditoriums and Theaters
Bars
Businesses
Casinos
Cemeteries
Cities and Towns
Gardens
Ghost Towns
Government
Housing
Industrial
Landscape
Museums and Exhibits
Parks
Restaurants
Roads and Highways
Schools
Stores and Shops
Water
---
---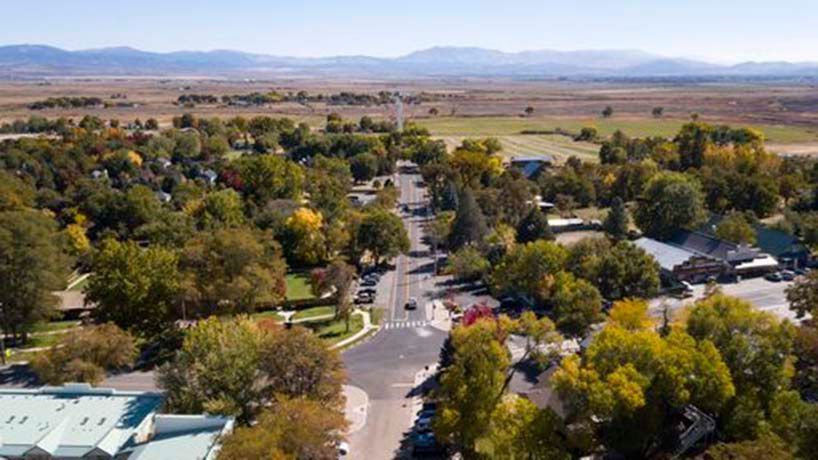 Location Details
Carson Valley remains a place of historic hometown roots mixed with legendary spirit. Carson Valley's geographical makeup starts with the four towns of Gardnerville, Genoa, Minden and Topaz Lake; together they sit in Douglas County. The county stretches from the shores of Lake Tahoe to Topaz Lake and along the way it is always surrounded by mountains. In the 751 square miles of land covered by Douglas County, you won't be disappointed in the diverse film locations you will find here. If you are looking for an authentic small-town atmosphere to use as a film location for your next production, be sure to check out Carson Valley!
There are a multitude of filming locations, including specific locations with the towns of Gardnerville, Genoa, Minden, and Topaz Lake. All towns have individual film listings if you want to learn more about a specific one.
Interior Location Information: Understandably, filming in a small town leads you to think small space. Carson Valley offers accommodations from set/equipment storage to convenient travel and lodging that help plans for the behind-the-scenes details of production. Use the search box to search for Keywords Minden, Gardnerville, Topaz Lake, Genoa, and Stateline to see what each specific location offers.
Copeland Cultural Art Center Building (Individual listing) is an empty warehouse in the Town of Minden. This industrial building is available for use. The building's trusses are currently 80-90 years old, span 100 feet and are spaced 20 feet on center. The total square footage of the Copeland Building (warehouse) is 14,533; the storefront square footage is 2,332; making it a total of 17,865 square feet.
Hellwinkel Barns are located on approximately 20-acres of open space owned by the Town of Gardnerville. This historic property is an old ranch that includes ponds and a trail. The wide barn is 53' long by 52' wide with a 33' high metal corrugated roof and peeled lodgepole framing. It was built in the 1890s. Current conditions are rough, with planned yet unscheduled improvements on the way.
Exterior Location Information: Northwest Nevada sees 300 days of sun, and experiences four distinct seasons. The valley is a small town atmosphere in a wide span of land that sees towering mountain peaks to the west and lower peaks to the east. Going from one end of the valley to the other, you will see just how many filming experiences you have access to. Norman Rockwell scenes to old western, ranches and desert scrub, the valley offers a diverse variety of locations.
With a small town population, traffic and noise are at a minimum. This allows for a wide range of times to film during without there being too many daily distractions.
QUICK DRIVE
Consider us your filming base camp. Carson Valley/Douglas County is within a day's drive of southern California, and half a day's drive from San Francisco and the Bay Area.
Venture out on a "quick drive" to these close by locations:
30 minutes from Carson City, Nevada's capital – museum, the Mint
30 minutes from Stateline at Lake Tahoe – beaches, water, ski resorts, hiking and biking trails
1 hour from Reno – shopping, the arts, international airport
2 hours from Sacramento
Additional Keywords: accommodations, agriculture, airports, bars, businesses, casinos, cities and towns, desert, distillery, fishing, gas stations, ghost town, historic buildings, historic homes, lake, landscape, main street, mountains, museums and exhibits, old town, open land, parks, ranch, restaurants, rural, rustic, small town, scenery, storage, stores and shops, views, water, western, Minden, Gardnerville, Topaz Lake, Genoa, Stateline.
Other activities and attractions available to include in the production are:
Antique hunting
Art galleries
Dining
Downtown Scene
Fishing
Golfing
Historic buildings
Hiking
Hunting
Internationally renowned gliding along the Sierra Nevada
Kayaking
Paddle boarding
Parks
Local coffee shops
Mountain biking
Road biking
Sailing
Snowsports
Swimming
Schools
Theater
Film Permit
Douglas County does not issue film permits, but other approval may be required depending on the location of filming or type of production.
Where do I start?
Depending on the location of filming, if you are blocking roadways, if you plan to use pyrotechnics, etc., approval may be required. Start by contacting the Planning Technician at 775-782-6217 the Planning Department. You may be referred to another agency if your project is not within Douglas County's jurisdiction.
Want to use a park or facility?
Contact that agency about use requirements. Here's a list of agencies that may require a permit or fee to use their facilities.
Douglas County Parks
Town of Minden
Town of Gardnerville
Town of Genoa
Filming on BLM or USFS Land? (Our community is bordered by both)
Bureau of Land Management
United States Forest Service
Photo Credits
Photos credit: Zach Hooper
Filmography
Although Carson Valley is small, it is no stranger to the big screen. Filmography includes: The Wizard, Casino Raiders, Showgirls, Charley Varrick, Chicken Every Sunday, Fatal Bet, Forty Pounds of Trouble, Things Change, Trail of Tears, Welcome to 18, Motel Life, The Shootist, Honky Tonk Man, Misery, Till the River Runs Dry.
Location Map / Address

Douglas, Nevada
Map It
Disclaimer:
The Nevada Film Office is not involved with final approval and/or permission to use a location for a production. Location fees, production shooting restrictions, rules and requirements are negotiated between the production and location management.
The information provided above is for the sole purpose of research by website visitors. Images and text may be copyrighted by individuals and cannot be used or reproduced without permission. No explicit permission is granted for website visitors to reproduce the content published on this web page outside the sole purpose of research.
If you would like more information about a filming location, you can fill out the "Request More Info" form below or call (702) 486-2711.
You can also visit our production directory if you would like to hire a location manager or location scout for further assistance. You can also find additional location support services in our online production directory.
Request More Info
If you would like more information about this property, please fill out the following form.