Van Sickle Station Ranch
Location Type:
Accommodations
Agriculture
Architecture
Water
---
---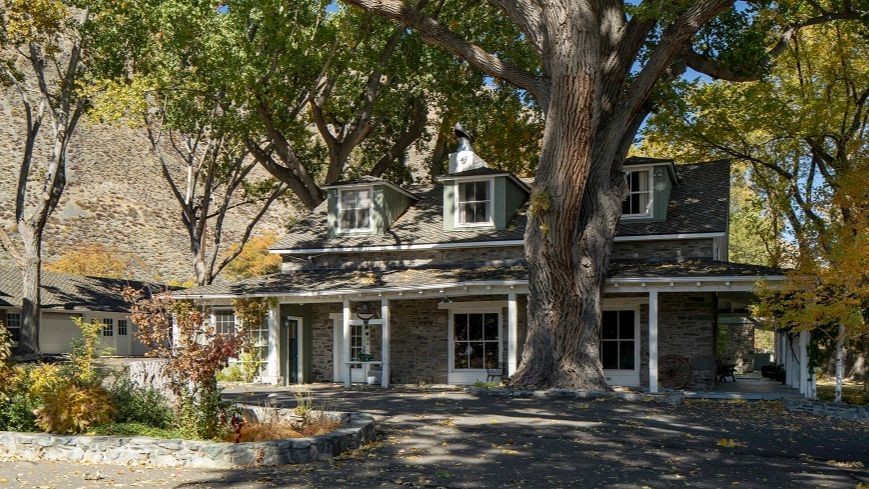 Location Details
Van Sickle Station Ranch is a working historic ranch on 600 acres upon the eastern foothills of the Sierra Nevada Mountain Range, 12 miles below Lake Tahoe. Located in Genoa, Nevada, est. in 1855, VSSR was an integral way-station and toll pass for immigrants traveling to California seeking golden fortunes. Today, the
property remains a working cattle, horse and hay ranch, with several original 1850s structures, as well as gorgeous restorations, including the 7500' ranch home, Casa Grande.
Historic 600-acre Van Sickle Station Ranch, located in Genoa, NV, still boasts several original 1850s buildings, including an impressive red 2-story (bank) timber-frame barn; as well as, a beautiful 7500sq' ranch home, Casa Grande, which is the 1944 restoration of the original granite stone livery and blacksmith shop, connected with the saloon and restaurant. Original architectural features are preserved of their original integrity, including hand-hewn open beams, Genoa Granite walls, and a designated historical plaque recounting the shootout between proprietor Henry Van Sickle, and Northern Nevada's most notorious wild west outlaw, Sam Brown.
Currently, the 'saloon,' where the historic confrontation began, is still quite reminiscent, with high ceiling, open hand-hewn beams and original wooden doors. Other features of Casa Grande are: an apple orchard, wrap-around verandas, built from original ranch structure beams; and, the beautiful 360-degree views of the majestic Sierra Mountains, and open green pastures with several meandering waterways. Casa Grande also has a few modernized features, like an in-ground pool, a privacy courtyard, classy décor, and parking/access.
With mild, but distinct year-round seasons, the ranch location is a living postcard! From snowy landscapes, to vibrant falls, the unique high desert location almost always has clear blue skies, regardless of season. The red 5,000sq' 2-story timber-frame barn is considered the oldest working barn in Nevada. Built in the 1850s, with hand-hewn tongue and groove timbers, remains structurally sound today, constructed entirely with wooden pegs- no nails or bolts. In fact, the VSSR red barn has two one of a kind timber-frame scarf joints that were not known to exist in North America!
In addition to Casa Grande and the red barn, VSSR has hay and horse barns (modern), chicken coop, ponds, and fruit tree orchard, along with a riding arena and mountainside trails, with spectacular Carson Valley views. Casa Grande has a 4-stall garage, and "matching" Genoa Granite and timbers ranch manager home (available for exterior only). Year-round, there are cattle, horses, dogs, cats, chickens, geese, deer, coyote, bear, bobcats, mountain lion, egrets, barn and horned owls (which reside in the red barn), hawks, golden and bald eagles (prominent during calving seasons), to name a few of the local livestock and wildlife. The neighborhood is surrounded by ranch and conservancy land, and views are unobstructed, with limited traffic and noise.
Van Sickle Station Ranch is a unique location, rich in history and lush in preservation.
Additional Keywords: historic, open space, ranch, red barn, livestock, waterways, stone masonry, lodging, horses, quaint, Genoa, Carson Valley, Nevada, Lake Tahoe, rural state highway, cattle, pool, old west, Sierra Nevada Mountains, wildlife.
Photo Credits
Photos courtesy of Zach Hooper
Square Footage
INTERIOR Location Details: Casa Grande (home) Van Sickle Station Ranch Square Footage: 7500sq'. EXTERIOR Location Details: 600 acres, including pastureland, waterways, mountain/foothills, structures (barns, rock ranch homes), riding arena.
Ceiling Height
9' – high open-beam in Casa Grande
Filmography
Variety of Print ads: including Chatwick's of Boston
Int/Ext films: including documentary 'Living Legend,' international, award winning film 'Firedancer'
Location Address
Private Address
Minden, Nevada
Disclaimer:
The Nevada Film Office is not involved with final approval and/or permission to use a location for a production. Location fees, production shooting restrictions, rules and requirements are negotiated between the production and location management.
The information provided above is for the sole purpose of research by website visitors. Images and text may be copyrighted by individuals and cannot be used or reproduced without permission. No explicit permission is granted for website visitors to reproduce the content published on this web page outside the sole purpose of research.
If you would like more information about a filming location, you can fill out the "Request More Info" form below or call (702) 486-2711.
You can also visit our production directory if you would like to hire a location manager or location scout for further assistance. You can also find additional location support services in our online production directory.
Request More Info
If you would like more information about this property, please fill out the following form.