Sheridan Ranch . Nevada - Ag land, barn, livestock
---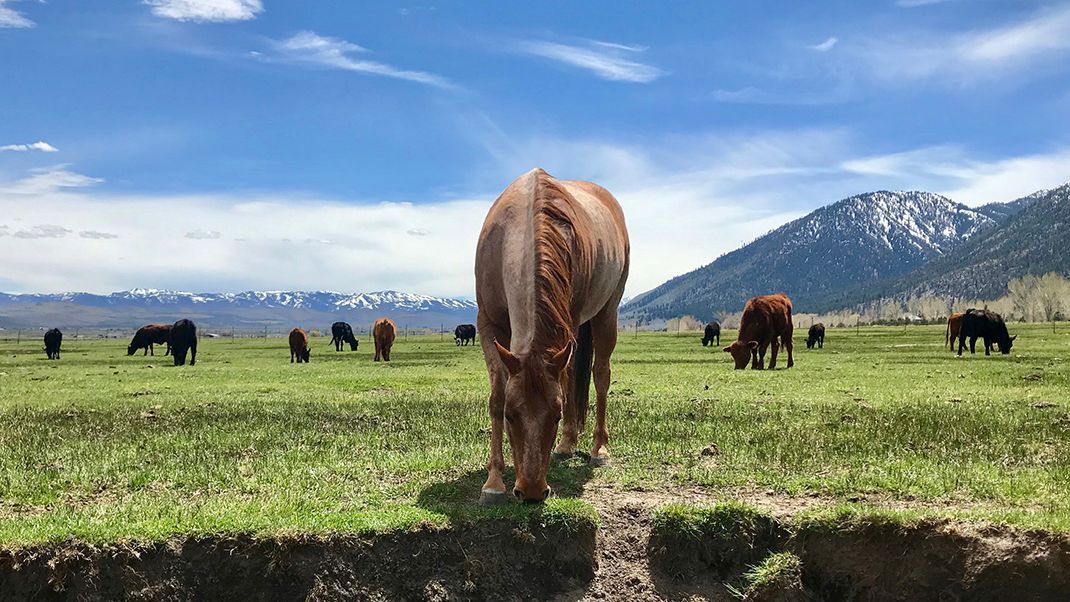 Location Details
"Ranchette" best suited for small scale productions and stills -
Sheridan Ranch is a privately owned 20 acre agriculture property in the historic enclave of Sheridan; a part of what remains of the Western Nevada town established in 1861.
The "ranchette" is situated near the Nevada foothills of Monument Peak just 14 miles southeast of Stateline South Lake Tahoe, 20 miles south of Carson City, Nevada and an approximate 3.5 hour drive northeast of San Francisco, CA.
With spectacular views of the mountains and pastureland, this is a diversely photogenic property.
What's on the ranch:
New red barn - nice rustic/modern interior with tack-rooms and a variety of tack
Rustic wood shed
Hay shed
Outdoor arena
Round pen
Horse pens
Goat pen
Cattle pen
2 creeks
Grazing pasture
Stock Trailer,
Old rustic horse trailer
Various ranch equipment
Horses year round
5 pet Nigerian Dwarf Goats
2 pet Holstein Steers
Cattle grazing at times during the year, with the option to bring in with some notice
Cowboys on horseback upon request
Photo Credits
All photos - Sandra Settles
with the exception of:
'Rider in arena' and 'Winter 1' - Rodger Hostetler
Sheridan Lane at Corie Court
Gardnerville, Nevada 89460
Map It
Disclaimer:
The Nevada Film Office is not involved with final approval and/or permission to use a location for a production. Location fees, production shooting restrictions, rules and requirements are negotiated between the production and location management.
The information provided above is for the sole purpose of research by website visitors. Images and text may be copyrighted by individuals and cannot be used or reproduced without permission. No explicit permission is granted for website visitors to reproduce the content published on this web page outside the sole purpose of research.
If you would like more information about a filming location, you can fill out the "Request More Info" form below or call (702) 486-2711.
You can also visit our production directory if you would like to hire a location manager or location scout for further assistance. You can also find additional location support services in our online production directory.
Request More Info
If you would like more information about this property, please fill out the following form.