Worre Studios
---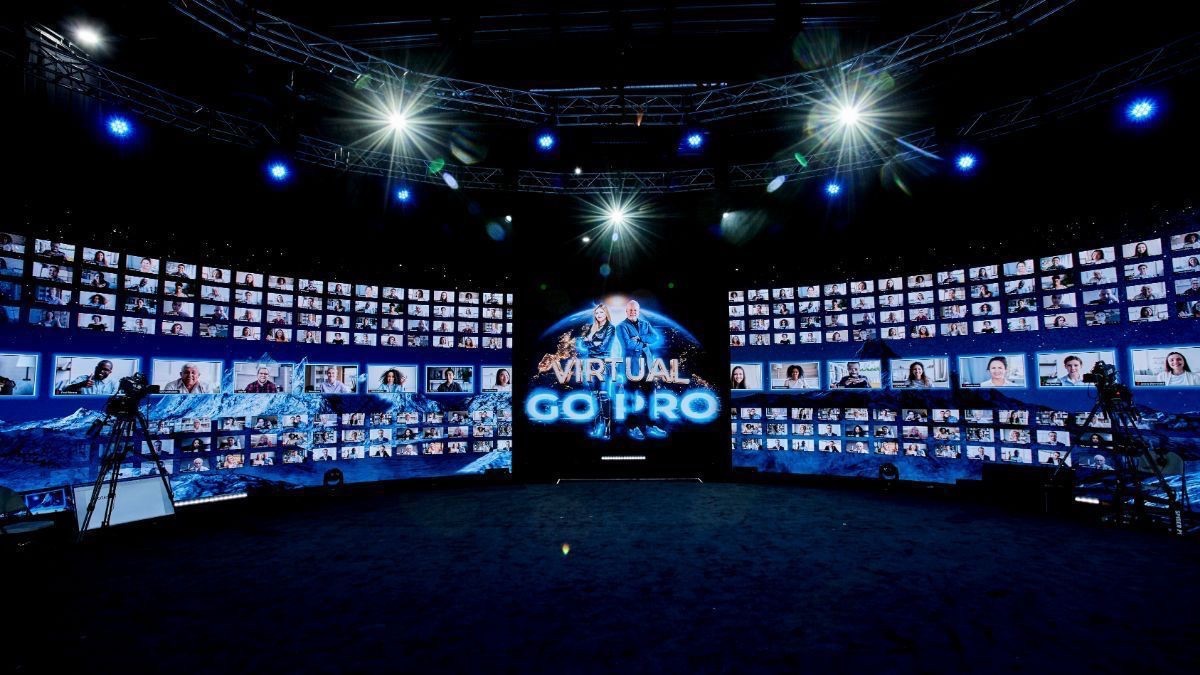 Location Details
Worre Studios is a state of the art 25,000 square foot production studio and event facility located in Las Vegas, boasting a stage in the round footprint, surrounded by a technologically advanced dual 73 foot wide, 14 foot tall 1.9mm 4k curved LED video walls. Truly unique in experience, via broadcast quality audio and video equipment, presenters and hosts whether it's a business meeting, live television broadcasts, new product launch, live concert, awards show, press conference, or hosting a speaker series can have a full interactive/full participatory style event with up to 334,000 attendees in real time, giving everyone a front row seat. With the ability to stream to multiple platforms at once (e.g. YouTube, Zoom, private IPs, Twitter, etc.) content channels allow for millions of viewers to join live. With global reach, the translation platform can translate both to attendees and back to the host in multiple languages, allowing for the language barrier to disappear and for attendees to have the same live experience. The studio's ability to expand allows a great footprint for hybrid events, and the technology capabilities continue to grow and now include 3D immersive environments allowing guests and hosts to join from around the world, but appear to be in person; Unreal Engine for XR/VR/AR capabilities; and more to come allowing event producers to reimagine what you can track and measure during an event. See more at www.worrestudios.com.
Photo Credits
Image 1 - Photo Credit: Denise Truscello
Image 2 - Photo Credit: Denise Truscello
Image 3 - Photo Credit: Jerry Metellus
Image 4 - Photo Credit: Jerry Metellus
Filmography
'Most Powerful Women in Network Marketing' Virtual Event From Worre Studios Featuring Guest Speakers Gwyneth Paltrow and Kate Hudson
Women make up 74% of the entrepreneurs in the $200 billion network marketing industry, so when The Most Powerful Women in Network Marketing event choose to go fully virtual from Worre Studios in May of 2021, global attendees, and event producers, rejoiced. The event utilized Worre Studios' capabilities to go virtual globally and reach nearly 180,000 attendees during the three day production. Through the state-of-the-art studio, the event reached more than 100 countries, was translated in real-time to several languages, and event organizers easily facilitated breakout rooms and sessions throughout the experience. The interactive capabilities allowed guest speakers and hosts to talk to attendees in real-time, to watch chats, and pull up virtual attendees into the live feed – all with minimal latency.
Going virtual allowed the event to host guest globally-recognized speakers from one central location including Goop creator Gwyneth Paltrow, Fabletics founder Kate Hudson, author of "Believe It" and creator of IT Cosmetics Jamie Kern Lima, Worre Studios Founder and CEO Marina Worre, "A Radical Awakening" author Dr. Shefali, motivational speaker Lisa Nichols, "Build An Empire" author Elena Cardone, host of MarieTV Marie Forleo, and many rockstars from the world of network marketing.
From the producers' end, they were able to save money normally spent on production and other elements like hotels and transportation. From an attendee standpoint, they were able to overcome challenges such as travel/jet-lag, finding time-off to attend, and saved on the expense of major travel.

Neon Lights by LODATO Music Video
Up-and-coming EDM artist LODATO turned to Worre Studios as a location to film a portion of his latest music video titled "Neon Lights," which takes viewers into a virtual futuristic Las Vegas. The scope of work included a combination of graphics and production work utilizing Worre Studios' stage and dual 73-foot wide, 14-foot tall 4k curved LED video walls (making the stage in-the-round a 70-foot diameter space). The state-of-the-art screen system at Worre Studios has 65 million pixels, providing the highest quality production facility for film, allowing the director to film the artist and model in front of the screens without the assistance of a green screen or editing. In addition to the use of screens, the director wanted to shoot a seamless, rotating shot. Worre Studios' 360-degree, 1.9mm 4k LED walls allowed the director to achieve this continuous shot with no need to cut, edit, or use a green screen.

The Alienware X-Series Gaming Laptops Product Launch
Alienware, the world-renowned gaming hardware company, utilized Worre Studios for the production of their virtual product launch of the X-Series Gaming Laptops. The event was an interactive and multi-layered live production that reached an audience of more than 10 million viewers globally and immersed them in an experience that captured the high performance, iconic design, and premium quality of the X-Series Gaming Laptops.
The Challenge:
This global virtual production was split into two different segments, the first hour showcased the product and the second hour was a live streaming session of performer Chance the Rapper and three high profile gamers playing live.
To achieve a successful stream, Worre Studios needed to support thousands of views while being able to stream live with minimal delay, present various types of content layers spread across multiple streaming feeds at once, and have the ability to manipulate various forms of content for all platforms where the content was set to stream. For the first hour, the production also needed to easily switch between videos of the products and the hosts. The second hour required a live stream of four gamers in real-time where those tuning in would be able to watch the gamer, as well as their gameplay. It was crucial that during the gaming session there be no delay so that the gamers could communicate and play in real time.
Execution:
The two-hour and 15 minute production featured two presenters hosting live from Worre Studios displaying the new products from the stage utilizing the studio's state-of-the-art dual 73-foot wide, 14-foot tall 1.9mm 4k curved LED video walls for video and background during a multi-camera studio production. Worre Studios also layered in the videos of the product and additional artwork, which was used throughout the stream and provided another layer of content to seamlessly manage. Throughout the production, Worre Studios managed and switched between 10 feeds at one time. The entire production was streamed live via Twitter, Twitch, in Dell's Phygital world, YouTube, Zoom, and various private IPs. Worre Studios' in-house broadcast system allowed for the stream to be broadcast to all platforms with minimal delay.
For the live gaming session, production used two feeds for each gamer on-screen. One feed captured game footage and the second captured video of the gamer giving real-time content feeds back to the main studio and through the multi-channel distribution. The Christie Spyder Audio Visual System allowed the Worre Studios team to test the full extent of their audiovisual capabilities for this stream including layering 26 various types of content simultaneously. The Christie Spyder System is a staple software that is always kept in-house and allows the team to place content on all screen maps and manipulate content for all platforms.
Within the Christie Spyder System, Worre Studios hosted motion graphics and live video for the gaming segment. Between Zoom video inputs and outputs, as well as motion graphics, there were a total of 11 layers of content. For the live gaming session to work, it was necessary that the gamers be able to play, hear, and communicate in real-time while streaming live on six platforms. Through the Christie Spyder Audio Visual System, Worre Studios created a seamless stream in real-time with zero latency. The live gaming stream had 4.7 million views via Twitter alone during the launch. The final product was a completely seamless experience where the hosts and audience could interact in real-time, giving everyone a front row seat to the new Alienware X-Series Gaming Laptop product launch.
Website Links
7175 S. Belcastro St. Suite 100
Las Vegas, Nevada 89113
Map It
Disclaimer:
The Nevada Film Office is not involved with final approval and/or permission to use a location for a production. Location fees, production shooting restrictions, rules and requirements are negotiated between the production and location management.
The information provided above is for the sole purpose of research by website visitors. Images and text may be copyrighted by individuals and cannot be used or reproduced without permission. No explicit permission is granted for website visitors to reproduce the content published on this web page outside the sole purpose of research.
If you would like more information about a filming location, you can fill out the "Request More Info" form below or call (702) 486-2711.
You can also visit our production directory if you would like to hire a location manager or location scout for further assistance. You can also find additional location support services in our online production directory.
Request More Info
If you would like more information about this property, please fill out the following form.