Liberace Garage
Location Type:
Automobiles and Cars
Businesses
Industrial
Museums and Exhibits
Stores and Shops
Strip Views
---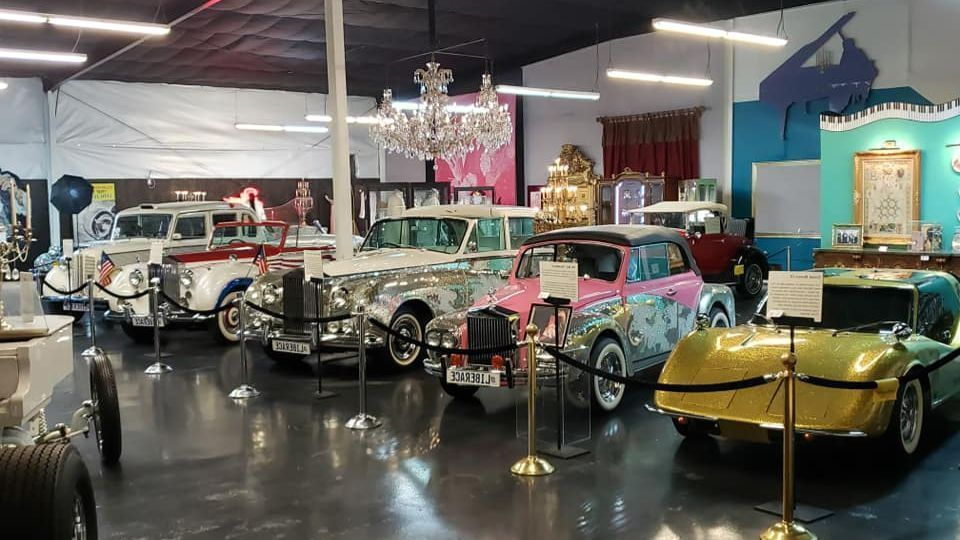 Location Details
Liberace Garage is in the Teamsters-financed 1972 warehouse complex on Dean Martin Drive. The interior of the property houses the stage cars and other large artifacts of the Liberace Museum Collection, under management of the Liberace Foundation. Also housed in adjacent rooms is the Hollywood Cars Museum collection of cars from various films and television.
The interior of Liberace Garage is a glistening dichotomy to the rough, older warehouse exterior. There are two distinct warehouse locations within the Liberace Garage. One is bright, the other dark, much like a black box studio. Artifacts can be moved on a case-by-case basis, or licensed for use. Liberace Foundation Chairman Jonathan Warren also houses some of his collection of classic cars which have been picture cars including in Back On The Strip, starring Wesley Snipes.
He has car handlers and does greeking of autos as well.
Photo Credits
Adventures of Kesha and Macklemore was filmed here in 2018 (remodeled since)
Many television show segments, usually pertaining to automotive
The Liberace cars were shipped by the Foundation for filming in HBO's Behind The Candelabra
There are many picture cars on site, ownership is familiar with film usage.
Ceiling Height
12 ft to 18ft
Filmography
Adventure of Kesha and Macklemore was filmed here in 2018.
The Liberace cars here were shipped by the Foundation to be filmed in HBO's Behind the Candelabra.
5115 Dean Martin Drive #'s 801, 802, 905
Las Vegas, Nevada 89118
Map It
Disclaimer:
The Nevada Film Office is not involved with final approval and/or permission to use a location for a production. Location fees, production shooting restrictions, rules and requirements are negotiated between the production and location management.
The information provided above is for the sole purpose of research by website visitors. Images and text may be copyrighted by individuals and cannot be used or reproduced without permission. No explicit permission is granted for website visitors to reproduce the content published on this web page outside the sole purpose of research.
If you would like more information about a filming location, you can fill out the "Request More Info" form below or call (702) 486-2711.
You can also visit our production directory if you would like to hire a location manager or location scout for further assistance. You can also find additional location support services in our online production directory.
Request More Info
If you would like more information about this property, please fill out the following form.