1 story house w/pool, gazebo, putting green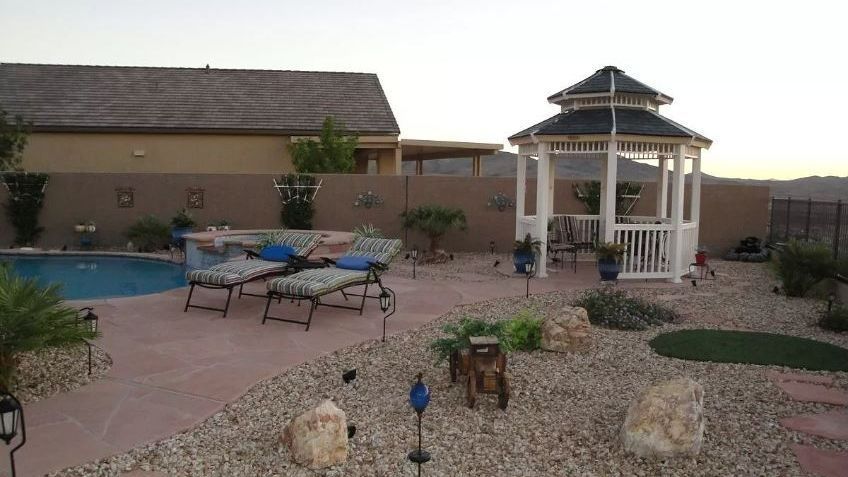 Location Details
This is a contemporary one-story house on a hill in Henderson with an expansive view of the valley and the Las Vegas strip. Beautiful sunsets in the evening. The backyard is a dream--flagstone, a pool and spa that lights up at night, a gazebo and a putting green in the backyard. Great for party scenes, BBQ scenes, swimming, outdoor lunch or wine drinking scenes, a high-end suburban home, evil villain lair, etc. The front yard is well-kept with desert landscaping. It could be a house anywhere in need of a desert location.
Photo Credits
We're using the old real estate photos from when we bought the house, but we DO own the house and have for several years.
Square Footage
lot: 6969 house: 1500
2736 Solar Flare Street
Henderson, Nevada 89044
Map It
Disclaimer:
The Nevada Film Office is not involved with final approval and/or permission to use a location for a production. Location fees, production shooting restrictions, rules and requirements are negotiated between the production and location management.
The information provided above is for the sole purpose of research by website visitors. Images and text may be copyrighted by individuals and cannot be used or reproduced without permission. No explicit permission is granted for website visitors to reproduce the content published on this web page outside the sole purpose of research.
If you would like more information about a filming location, you can fill out the "Request More Info" form below or call (702) 486-2711.
You can also visit our production directory if you would like to hire a location manager or location scout for further assistance. You can also find additional location support services in our online production directory.
Request More Info
If you would like more information about this property, please fill out the following form.