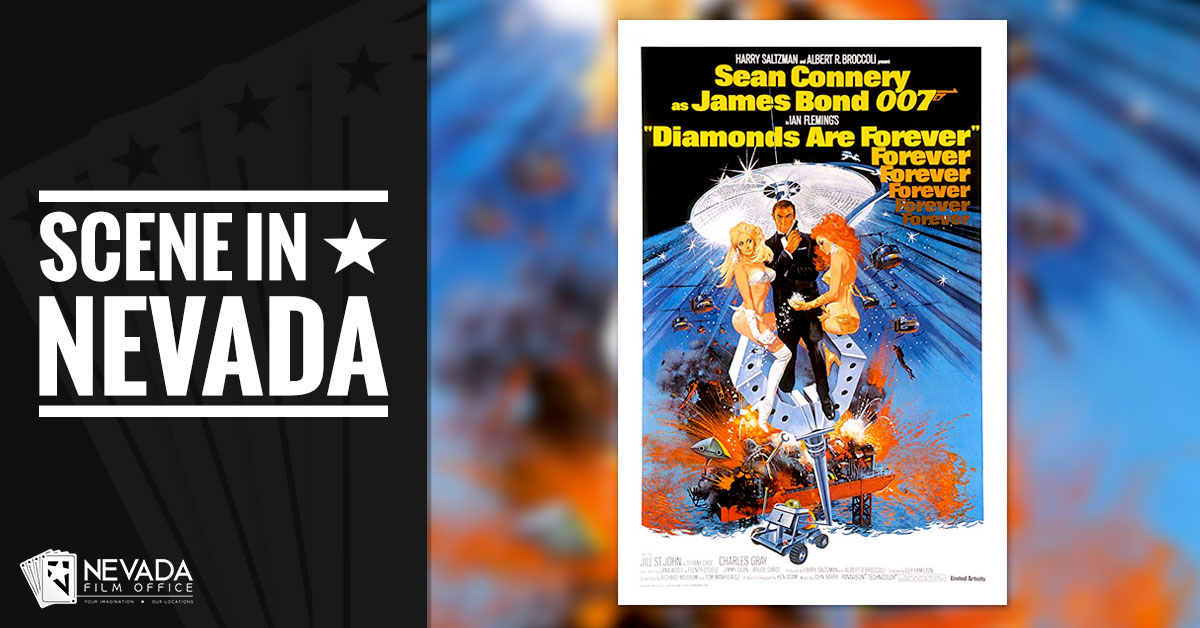 Diamonds Are Forever is a 1971 James Bond spy film starring Sean Connery in his sixth and final appearance in the official James Bond film series. Since then, Connery has appeared as Bond in the 1983 unofficial Bond film Never Say Never Again.
In the film Diamonds Are Forever, a diamond smuggling investigation leads James Bond to Las Vegas where he uncovers an evil plot headed by his nemesis, Ernst Stavro Blofeld.
Watch the official trailer below:
"Diamonds Are Forever (1971) Official Trailer – Sean Connery James Bond Movie HD" by Movieclips Classic Trailers
Filming in Las Vegas
Diamonds Are Forever spent about seven weeks filming locally in Las Vegas, NV. The production shot at many Las Vegas hotel & casino properties, including The Riviera, Tropicana Las Vegas, Landmark Hotel & Casino, Dunes Hotel, International Hotel (now known as the Westgate Las Vegas Resort & Casino), Las Vegas Hilton, and Circus Circus Las Vegas.
The production also filmed at:
Johns-Mansville Gypsum Plant (now known as PABCO Gypsum Plant)
Palm Downtown Cemetery on N Main St in Las Vegas
Palm Mortuary on Boulder Hwy in Henderson
The Car Chase Scene
A notable scene in Diamonds Are Forever is the car chase scene through downtown Las Vegas, also featured as the opening sequence in the official trailer. Watch the chase below:
"Diamonds Are Forever – Las Vegas car chase" by bondclips
One fun fact about this scene is that filming in Las Vegas at night had its perks: the neon lighting from the casinos was so bright that no artificial lights were required.
Another fun fact about this scene is that a continuity problem was spotted in the dailies. The entire scene was filmed in two locations, Universal Studios and Las Vegas, with different stunt drivers and film crews. During the car chase, Bond escapes the police through a narrow alley by driving his car on its two right wheels. However, when Bond emerges from the other side of the alley, the car is on its two left wheels. In order to fix this continuity error, a new insert was added to make it look like the act of leaning from one side of the car to the other would make it switch sides.
If you would like more details about the filming of Diamonds Are Forever, check out the following articles:
---
Featured Business
Advertisement
---
Disclaimer: The information contained in this article is deemed to be accurate and true to the best of our knowledge. If there are any inaccuracies, you may submit corrections and sources by visiting our Contact page. We do not sponsor or endorse anyone in our posts nor do we receive compensation of any kind in exchange for providing information about specific websites or resources unless otherwise noted, so please check for references, business licenses or credentials as you feel necessary.