Superhero training / fortress themed warehouse
Location Type:
Businesses
Museums and Exhibits
---
---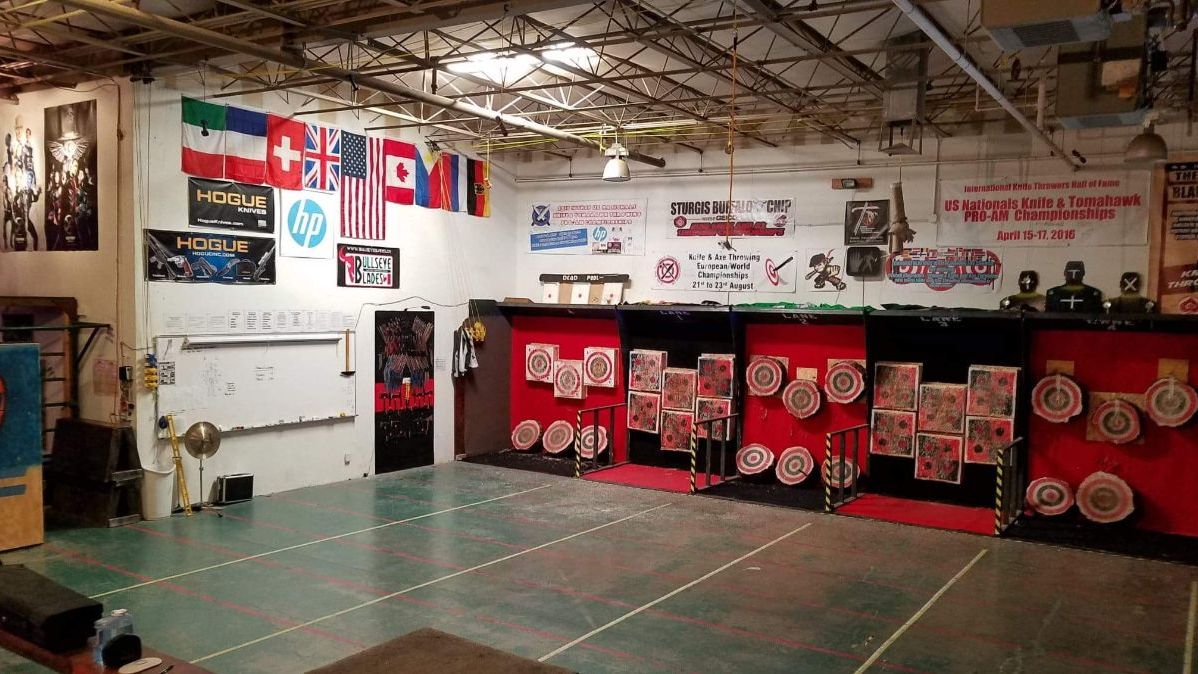 Location Details
2,750 sq ft warehouse used as a working martial arts facility with five 10 meter long lanes for knife, axe, etc throwing practice. Used for martial arts training, US National championships for knife and axe throwing. 32 feet of carpeted bleacher seating. Walls are decorated with multiple displays of exotic weapons. 19 foot ceilings with two 14 foot roll up doors and two exit doors in warehouse. Front lobby is used for retail sales. 5 minutes from McCarran Airport and 7 minutes from strip. Used for practice sessions by international magicians like David Blaine, Jonathan Goodwin, Jonathan Pendragon and more. Also used as unique location for martial films and videos. Plenty of outdoor parking and very little traffic in the area after 6pm and on weekends.
Photo Credits
3155 West Post Rd
Square Footage
Warehouse is 2,000 sq ft. Retail area and office are 750 sq ft.
Filmography
Practice facility and segments for David Blaine, Jonathan Goodwin, Jonathan Pendragon and others. Various fan films. Blade Aces Knife and Axe Championships. Martial arts competitions.
Location Map / Address
3155 West Post Rd
Las Vegas, Nevada 89118
Map It
Disclaimer:
The Nevada Film Office is not involved with final approval and/or permission to use a location for a production. Location fees, production shooting restrictions, rules and requirements are negotiated between the production and location management.
The information provided above is for the sole purpose of research by website visitors. Images and text may be copyrighted by individuals and cannot be used or reproduced without permission. No explicit permission is granted for website visitors to reproduce the content published on this web page outside the sole purpose of research.
If you would like more information about a filming location, you can fill out the "Request More Info" form below or call (702) 486-2711.
You can also visit our production directory if you would like to hire a location manager or location scout for further assistance. You can also find additional location support services in our online production directory.
Request More Info
If you would like more information about this property, please fill out the following form.