Copeland Cultural Arts Center/Empty Warehouse
Location Type:
Architecture
Auditoriums and Theaters
Businesses
Industrial
Museums and Exhibits
---
---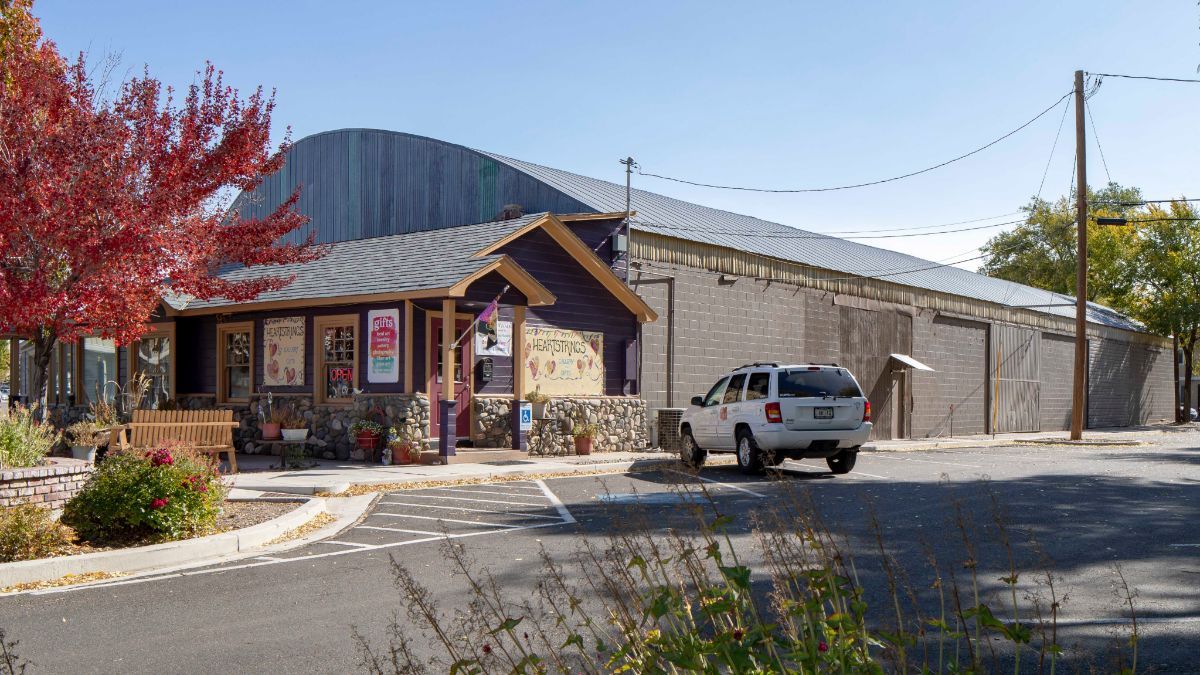 Location Details
Copeland Community Performing Arts and Cultural Center
A Brief History
The history of the Copeland Lumber Building is a long one. A lumber operation has been at this particular site since 1908. Six lumber companies have owned this particular site. The first one in 1908 was Minden Wood and Lumber. A year later, 1908, it was sold to Gardnerville Lumber Company. It was again sold in 1910 and became known as Carson Valley Lumber Company. The site was resold in 1912, to Sierra Nevada Wood and Lumber Company. In 1917, the name of the company was changed to Hobart Lumber Company. In March, 1940 the lumber company was sold to the Nevada Lumber Company where it remained until it was sold to J. W. Copeland in 1953. The site was renamed the Copeland Lumber Building and remained under that name until the business was closed in the early 1990s. The building was eventually purchased by a local resident but was never renovated or used except for the storefront portion of the building for a short time. The building is located on street-front property at 1572 US Hwy 395 and the gateway to downtown historic Minden.
The trusses currently in the building are 80-90 years old, span 100 feet and are spaced 20 feet on center. The trusses were trucked to Minden from a car dealership in Reno Nevada in the early 1960s.
The total square footage of the Copeland Building (warehouse) is 14,533; the store front square footage is 2,332; thus making a total square footage of 17,865.
The store front, the sides of the building and roof were added in 1967. The building is eligible for historical designation as a commercial location, but designation has not yet been applied for.
The former owner of the Copeland Building had a plan to eventually convert the building into retail space; but the Carson Valley Arts Council had other, more artistic, ideas.
The Carson Valley Arts Council purchased the Copeland Building in 2008.
The Copeland Building in its current state is an empty shell. We are currently focused on a singularly exciting project, to renovate the old Copeland Lumber Building into a multipurpose performing arts and cultural arts center. Located on Highway 395 at the gateway to historic downtown Minden, the Copeland Lumber Building has tremendous potential to fulfill the need in our community for a fixed-seat venue.
This facility will be unique and confirm the Carson Valley Arts Council's role as a leader in arts and culture; and create exceptional cultural opportunities for the community.
Photo Credits
Feature Image/2 Interiors/Exterior with car- Zach Hooper Photography
Other Images- Carson Valley Arts Council
Square Footage
Warehouse: 15,533 sq. feet, Store front: 2,332 sq. feet; Total 17,865 sq. feet
Ceiling Height
13 feet, 10 inches
Website Links
1572 U.S. Hwy 395 N
Minden, Nevada 89423
Map It
Disclaimer:
The Nevada Film Office is not involved with final approval and/or permission to use a location for a production. Location fees, production shooting restrictions, rules and requirements are negotiated between the production and location management.
The information provided above is for the sole purpose of research by website visitors. Images and text may be copyrighted by individuals and cannot be used or reproduced without permission. No explicit permission is granted for website visitors to reproduce the content published on this web page outside the sole purpose of research.
If you would like more information about a filming location, you can fill out the "Request More Info" form below or call (702) 486-2711.
You can also visit our production directory if you would like to hire a location manager or location scout for further assistance. You can also find additional location support services in our online production directory.
Request More Info
If you would like more information about this property, please fill out the following form.