Gardnerville, Nevada
Location Type:
Accommodations
Agriculture
Architecture
Bars
Businesses
Casinos
Cities and Towns
Gardens
Museums and Exhibits
Parks
Religious
Restaurants
Roads and Highways
Schools
Stores and Shops
---
---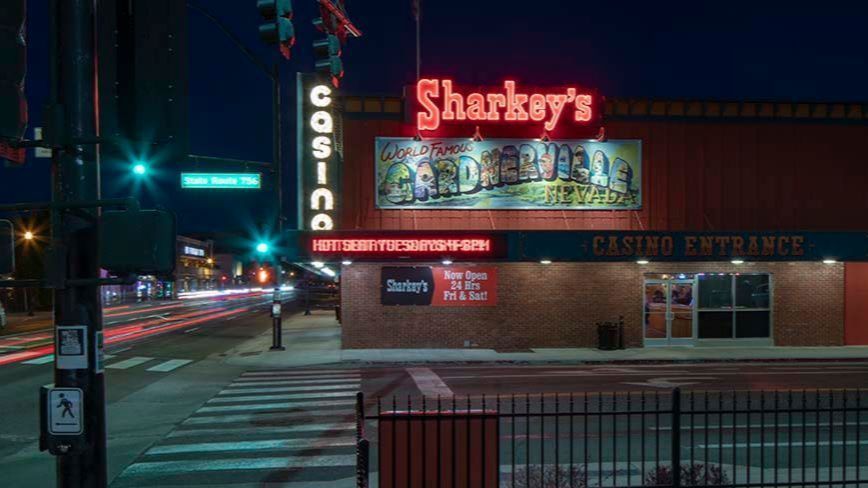 Location Details
Set in a dramatic Sierra landscape with 10,000+ peaks as a backdrop, this quaint community (established in 1879) resonates history, wide open spaces and notable architecture with plenty of indoor charm. The town is based at 4,700 feet with the East Fork of the Carson River meandering nearby the town. All four seasons dramatically present their colors each year. It's easily accessible via Highway 395. Location options are aplenty in this community such as:
Historic Hellwinkle Barns which are located on approximately 20-acres of open space owned by the Town. This property is an old ranch and includes the Gilman Ponds and portions of the Martin Slough Bike Path. This 53' long by 52' wide barn features a 33' high metal corrugated roof and peeled lodgepole framing. It was built in the 1890s. Current conditions are rough, with planned yet unscheduled improvements.
Heritage Park has an approximately 4-acre grass park surrounding a large gazebo. There are stone picnic tables throughout the park. Across the street is a community garden, stone labyrinth, and life size checkers and chess game. Events held at the park include the Christmas kickoff each year, which is reminiscent of a Norman Rockwell setting.
There are several significant masonry buildings along US 395 including Buckaroos, the French and Overland. Across the street is JT Basque Bar and Dining Room.
Original high school, with brickwork designed by renowned architect Frederic J DeLongchamps, which now houses the Chamber of Commerce, Visitors Center, and Carson Valley Museum and Cultural Center.
Gardnerville Station – formerly known as the Eagle Gas Station (and before that "The Old Shell') at 1395 Hwy 305 N, serves as a Welcome Center. Community members rent the space for meetings and special events/activities. It features a unique lighting system with countless color options.
Additionally, Jacobs Family Berry Farm is a historic ranch, home, and barn used for events. The stunning grounds and historical outbuildings make a fantastic backdrop.
Located near Gardnerville, Corley Ranch is a film-friendly working ranch that raises cattle and performance horses in addition to farming hay and pumpkins. Each weekend in October, they have a 3-acre corn maze and a variety of other activities.
If you are looking for an authentic small-town atmosphere to use as a film location for your next production, be sure to check out Gardnerville, Nevada!
Additional Keywords: accommodations, agriculture, bars, businesses, cities and towns, gas station, historic buildings, historic homes, landscape, main street, museums and exhibits, old town, parks, ranch, restaurants, rural, rustic, stores and shops, water, western
Other activities and attractions that can be included in your production:
Antique hunting
Art galleries
Dining
Fishing
Golfing
Hunting
Internationally renowned gliding along the Sierra Nevada Mountain Range
Kayaking
Local coffee shop
Mountain biking
Sailing
Skiing
Snowshoeing
Swimming
Theater
BRIEF HISTORY
"In 1879, Lawrence Gilman purchased the Kent House, which was located just south of Genoa which was supposedly haunted by a stagecoach-robbing ghost. After acquiring a seven-acre tract of land from homesteader John M. Gardner, Gilman moved the house to the new site. The Kent House became the Gardnerville Hotel – and the town of Gardnerville, named for Gardner, was born. Although the old hotel is no longer standing, the spirit lives on; we don't know about the ghost" (source).
QUICK FACTS
30 minutes from Carson City, Nevada's capital – museum, the Mint
30 minutes from Lake Tahoe – beaches, ski resorts, hiking and biking trails
1 hour from Reno – shopping, the arts, international airport
2 hours from Sacramento
Photo Credits
Zach Hooper Photography: cover photo, Gardnerville Station, scenic barn, Cheshire Antique store, JT Basque and Historian Inn, main street, Basque mural, Museum and Cultural Center.
Other photos courtesy Visit Carson Valley.
Filmography
Although Gardnerville is a small town, it is no stranger to the big screen. The local J.T. Basque Bar & Dining Room can be spotted in the 2012 film Motel Life, starring Emile Hirsch, Stephen Dorff, Dakota Fanning, and Kris Kristofferson.
Parts of the classic 1989 film The Wizard, starring Fred Savage, Luke Edwards, Christian Slater, Jenny Lewis, and Beau Bridges, were also filmed in Gardnerville.

GARDNERVILLE AT A GLANCE
https://youtu.be/IKDVApepLXc
Location Address
Private Address
Gardnerville, Nevada
Disclaimer:
The Nevada Film Office is not involved with final approval and/or permission to use a location for a production. Location fees, production shooting restrictions, rules and requirements are negotiated between the production and location management.
The information provided above is for the sole purpose of research by website visitors. Images and text may be copyrighted by individuals and cannot be used or reproduced without permission. No explicit permission is granted for website visitors to reproduce the content published on this web page outside the sole purpose of research.
If you would like more information about a filming location, you can fill out the "Request More Info" form below or call (702) 486-2711.
You can also visit our production directory if you would like to hire a location manager or location scout for further assistance. You can also find additional location support services in our online production directory.
Request More Info
If you would like more information about this property, please fill out the following form.