Town of Minden
Location Type:
Accommodations
Agriculture
Airports
Bars
Businesses
Casinos
Cities and Towns
Housing
Landscape
Museums and Exhibits
Parks
Restaurants
Roads and Highways
Schools
Stores and Shops
---
---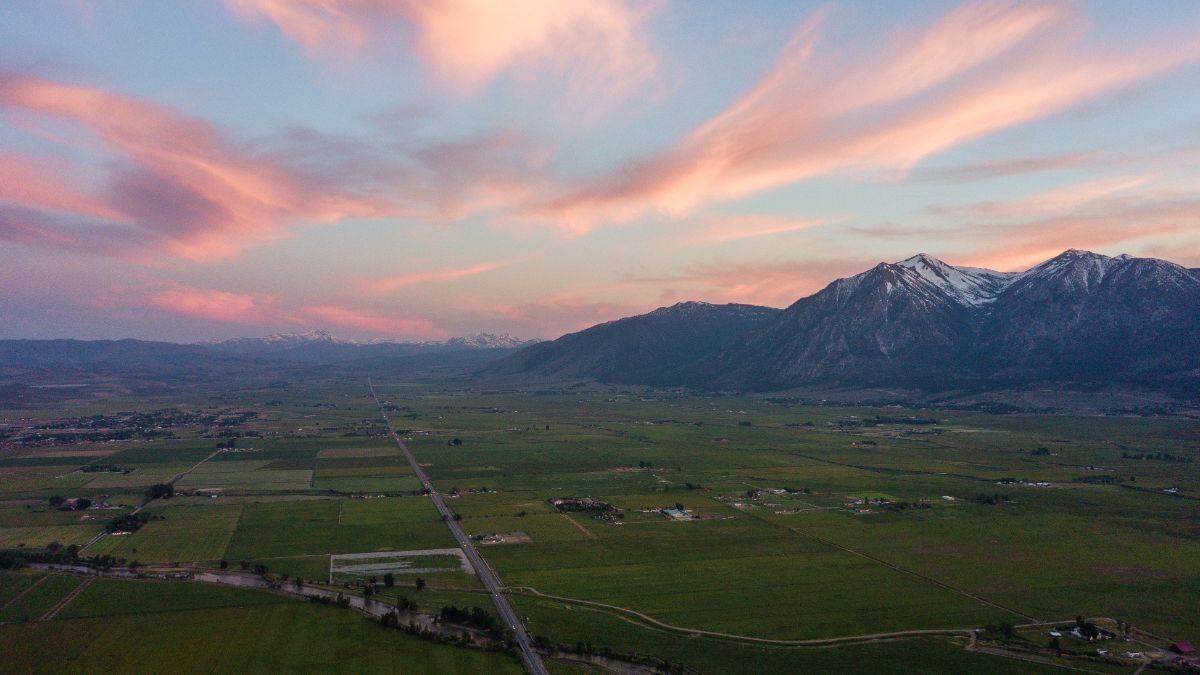 Location Details
Adjacent to Gardnerville, Nevada and set in a dramatic Sierra landscape with 10,000+ peaks as a backdrop, this charm filled community (established in 1909) resonates history, presents a quaint downtown, plus wide open spaces and notable architecture with plenty of indoor settings. Vibrant year round outdoor recreation is part of its heartbeat. The town is based at 4,700 feet with the eastern fork of the Carson River meandering nearby the town. All four seasons show up in living color. It's easily accessible via Highway 395. Location considerations in this community include:
The Dangberg Home Ranch was home to the Carson Valley's most prominent family at one time. Built between 1857 and 1917, the historic ranch home is full of artifacts from Nevada's past. The historic land at the Dangberg Home Ranch Historic Park including the surrounding land, ranch house, and stone buildings, all create opportunities for beautiful encompassing views of the Carson Valley and Sierra Nevadas. The park is located at 1450 Highway 88, west of Minden. The entrance is about 3⁄4 mile south of the roundabout at the intersection of County Road and Highway 88.
The Minden-Tahoe Airport is a small full-service airport that operates minutes away from town. The county airport serves aviation uses such as sport aviation, emergency services and corporate flying.
Minden Park is 2-acres of grass encompassing the town gazebo. This charming park is the center of the town, surrounded by historic homes and main street.
The Minden Inn is a historic hotel located in the heart of Minden built from 1912-1916. Designed in the classical Revival style of architecture, the building is used today for government offices. This building as well as several other brick buildings in Minden and Gardnerville were designed by renowned architect Fredric J. DeLongchamps.
Along Highway 395, Bently Heritage Estate Distillery is situated in the original Minden Flour Mill brick and metal building. Constructed in 1906, the building's old bones were preserved as it transitioned to a new life. Every detail was attended, down to the spiral staircase and Italian chandelier with Swarovski crystals. The 2nd floor tasting room holds scenic views of Minden and offers a bar setting to enjoy world-class cocktails. Steps away the Minden Creamery Building boasts its historic brick facade, and internally it processes bourbon, gin, and vodka.
Casinos, hotels, and event venues:
Carson Valley Inn (CVI) is the largest casino property in the Carson Valley. CVI is welcoming, friendly, and the marriage of a local's spot and a visitors stay away from home. Venue includes Cabaret Lounge, CV Steak, dinner style eating and TJ's Corral Outdoor Events Center.
COD Casino, located at the end of downtown Minden, proudly maintains the character of the historic C.O.D. garage. One area features vintage vehicles including the garage's signature piece, and of course, the casino floor. The canopy on Esmerelda Street was rebuilt with vintage gas pumps displayed underneath.
CVIC Hall has served diverse uses throughout the town's history and stands strong as one of the most recognizable buildings in Minden's downtown. Available to rent year-round, the building is 3,300 square feet ideal for dances, movies, town meetings, parties and any other function you can imagine.
An 1800's stone style ranch house, Van Sickle Station, is a 5 bedroom, 3 ½ bath home surrounded by trees. Beautifully enclosed by the Sierra Nevada for privacy, this house is also close to the road for easy access; 613-acres, and cattle roaming in the pastures, this ranch is a desired relaxing setting.
The town has an estimated population of 3,000 (in 2010), and elevation of 4,721 ft. Minden, Nevada is a community located in Douglas County, only a short drive from Lake Tahoe. Now beginning its second century (founded in 1909), Minden blends quaint streets and homes built in the early 1900s with modern family neighborhoods and businesses. It's a "sun belt" open agricultural area with tall mountain vistas, historic buildings, and a '50s small-town feel.
Additional Keywords: accommodations, agriculture, airports, bars, casinos, cities and towns, historic buildings, homes, landscape, main street, old town, park, ranch, restaurants, rural, rustic, views, western
Other activities and attractions available to include in the production are:
Antique hunting
Art galleries
Dining
Fishing
Golfing
Hunting
Internationally renowned gliding along the Sierra Nevada
Kayaking
Paddle boarding
Mountain biking
Sailing
Snowsports
Swimming
Schools
Theater
BRIEF HISTORY
"The town was named after Minden, Germany, near the birthplace of H.F. Dangberg. The Dangberg Company presented a plan of the Town of Minden to the Douglas County Commissioners in July of 1906. The nucleus of the town developed from 1906 until around 1940. During that time, the Minden Inn was a getaway destination for some of the biggest names in Hollywood, including Clark Gable and Jean Harlow. Minden is a unique town among the towns in Nevada, and probably even among towns in the United States".
QUICK FACTS
30 minutes from Carson City, Nevada's capital – museum, the Mint
30 minutes from Lake Tahoe – beaches, water, ski resorts, hiking and biking trails
1 hour from Reno – shopping, the arts, international airport
2 hours from Sacramento
Film Permit
Douglas County does not issue film permits, but other approvals may be required depending on the location of filming or type of production.
Where do I start?
Depending on the location of filming, if you are blocking roadways, if you plan to use pyrotechnics, etc., approvals may be required. Start by contacting the Planning Technician at 775-782-6217 the Planning Department. You may be referred to another agency if your project is not within Douglas County's jurisdiction.
Want to use a park or facility?
Contact that agency about use requirements. Here's a list of agencies that may require a permit or fee to use their facilities.
Douglas County Parks
Town of Minden
Filming on BLM or USFS Land?
Bureau of Land Management
United States Forest Service
Photo Credits
Zach Hooper- Esmerelda street, red barn, Bently Heritage building, Minden Park, Dangberg House, Minden Creamery building, and fall photos.
Other photos courtesy Visit Carson Valley.
Filmography
Although Minden is a small town, it is no stranger to the big screen.
The Wizard, Casino Raiders, Showgirls, Charley Varrick, Chicken Every Sunday, Fatal Bet, Forty Pounds of Trouble, Things Change, Trail of Tears, Welcome to 18
Location Map / Address
1604 Esmeralda Avenue
Minden, Nevada 89423
Map It
Disclaimer:
The Nevada Film Office is not involved with final approval and/or permission to use a location for a production. Location fees, production shooting restrictions, rules and requirements are negotiated between the production and location management.
The information provided above is for the sole purpose of research by website visitors. Images and text may be copyrighted by individuals and cannot be used or reproduced without permission. No explicit permission is granted for website visitors to reproduce the content published on this web page outside the sole purpose of research.
If you would like more information about a filming location, you can fill out the "Request More Info" form below or call (702) 486-2711.
You can also visit our production directory if you would like to hire a location manager or location scout for further assistance. You can also find additional location support services in our online production directory.
Request More Info
If you would like more information about this property, please fill out the following form.