Eichler Mid Century Modern Home Avail. Spring 2020
Location Type:
Architecture
Gardens
Housing
Landscape
Water
---
---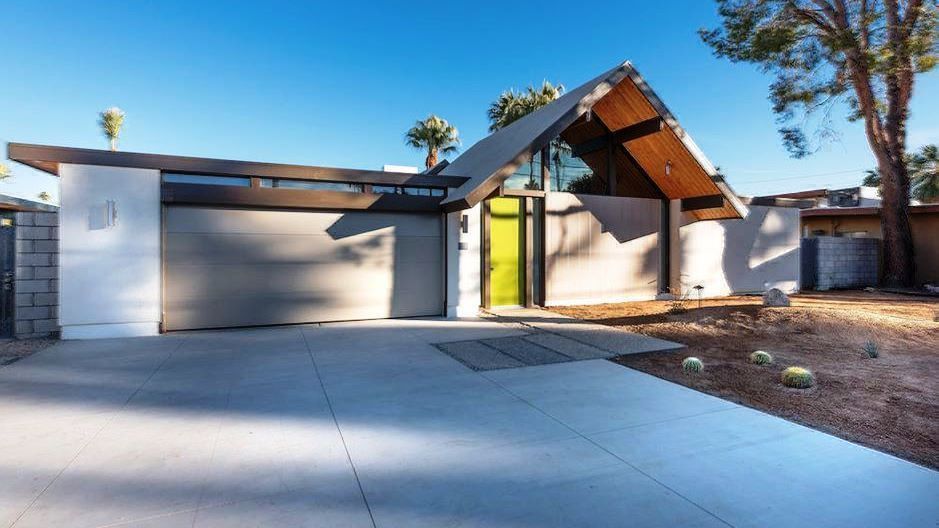 Location Details
Over 2800 square foot (4000 sq. ft. total footprint) Mid-Century Modern single-story residence Eichler home (similar to Billie Eilish "Bad Guy" video). This is a double gabled A-frame house designed by Claude Oakland for Joseph Eichler in the late 60's and updated to meet 21st century standards. Currently under construction and available in Spring 2020. Landscaping to be completed in Summer 2020.
Light olive green authentic Eichler "thin groove" siding with charcoal colored front door and earth tone ledgestone accents, including the fireplace.
4 BR, 3 BA with 19 foot high cathedral ceiling in the living room and open design to the kitchen and dining room. Gas fireplace. Tile living areas and Berber carpeted bedrooms. Kitchen island and all stainless steel appliances. Globe pendant and track lighting throughout.
Lots of glass that looks out to the Red Hawk "Lakes" Golf Course 11th green and Sierra Nevada Mountains in the distance.
Backyard will include outdoor kitchen, 40 by 20 foot swimming pool with Baja shelf, jacuzzi, rectangular concrete gas firepit. Outdoor rain shower on the side.
400 square foot open-air atrium courtyard in the center of the house.
Flanked by lots of trees on either side of the property.
140 foot long driveway and plenty of open area in the front of the house for parking and equipment.
Perfect for 50's/60's-style shoots or a Mid-Century Modern look with up-to-date amenities. The most unique home in the Reno/Sparks area.
NOTE: Photos of completed home are of a previously constructed home in Palm Springs of the same floor plan...colors, landscaping, etc. will be different. Current floor plan, site plan, elevations and landscaping plan available on request.
Photo Credits
Palm Springs outside and interior shots--KUD Properties, Inc.
Construction photos--Jerry Smith, Neil Adams Construction, Inc.
Ceiling Height
19 feet in the central area and 9 feet in the bedrooms
Location Address
Private Address
Sparks, Nevada
Disclaimer:
The Nevada Film Office is not involved with final approval and/or permission to use a location for a production. Location fees, production shooting restrictions, rules and requirements are negotiated between the production and location management.
The information provided above is for the sole purpose of research by website visitors. Images and text may be copyrighted by individuals and cannot be used or reproduced without permission. No explicit permission is granted for website visitors to reproduce the content published on this web page outside the sole purpose of research.
If you would like more information about a filming location, you can fill out the "Request More Info" form below or call (702) 486-2711.
You can also visit our production directory if you would like to hire a location manager or location scout for further assistance. You can also find additional location support services in our online production directory.
Request More Info
If you would like more information about this property, please fill out the following form.