Historic Town of Genoa
Location Type:
Accommodations
Agriculture
Architecture
Auditoriums and Theaters
Bars
Businesses
Cemeteries
Cities and Towns
Ghost Towns
Landscape
Museums and Exhibits
Parks
Religious
Restaurants
Roads and Highways
---
---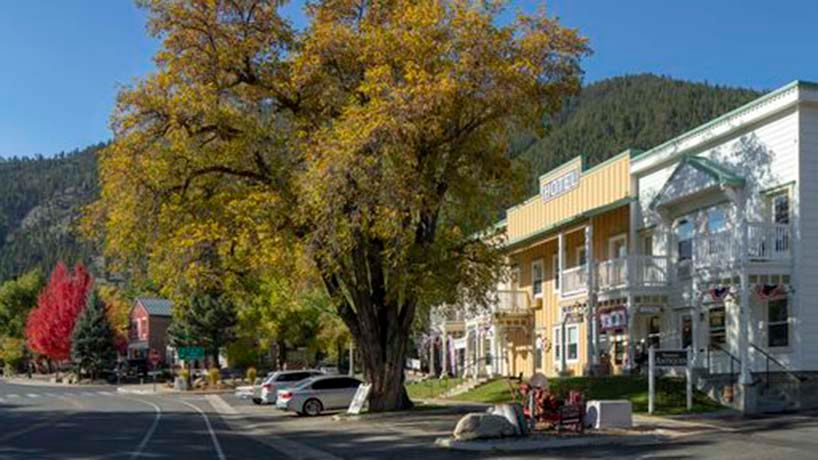 Location Details
Historic Genoa, Nevada, is nestled at the base of the eastern slope of the Sierra Nevada Range, just 25 minutes east of beautiful Lake Tahoe, and one hour south of Reno.
Buildings and parks rented by the town are the Raycroft Town Hall, Genoa Church, Genoa Park. Other locations available include the Genoa Bar, Genoa Museum, Trimmer Outpost, Sierra Chef, Mormon Station State Park, Van Sickle Ranch.
It is home to Mormon Station Memorial State Park which commemorates the settlement of Nevada in 1851, when the first permanent trading post was established by a group of Mormon traders from Salt Lake City.
Genoa's natural beauty and historic charm still beckon travelers and local wildlife. It is not unusual to spot mule deer as they come down from the forested area on the west side of Genoa and cross local roads to graze on vegetation or fields along the Carson River Valley to the east of Genoa.
The small town of approximately 250 residents and many local amenities and shops, welcomes visitors for a day trip or longer restful stay. Plan to learn about Genoa's past with a visit to Mormon Station State Park Museum, Genoa Courthouse Museum, the Genoa Cemetery and the Hanging Tree. Stroll through a variety of shops, and be sure to make time for a leisurely lunch or dinner in a historic building. Visit Nevada's oldest bar!
Considering a stay in Genoa? There is much to do in the surrounding area including hiking, biking, golfing, flying, fishing and shopping, just to name a few. Click here to link to the Carson Valley Visitors Authority for more information about Genoa and the surrounding Carson Valley.
Genoa's variable weather part of its charm — Bring a sweater or a windbreaker
If you are planning a visit to Genoa, make sure you check the weather conditions. Winter brings snow and ice to most of the sloped streets of Genoa, so you'll want to carry chains.
Spring can be mild and warm, or, stormy and cold. It's always good to bring warm and cold weather clothing and wear layered clothing as it might be very cold in the morning and quite warm in the afternoon. Genoa's location at the foot of the Sierra Nevada sees the earliest morning sunrise, but also early afternoon sunsets. Temperatures fall after the sun drops behind the mountains, sometimes more than 40 degrees (F.).
Summer average temperatures from June through August can range from the low 90s during the midday to the mid 40s and 50s at night. Bring your sunscreen, at almost 5,000 feet above sea-level, the thinner air can give you a sunburn — if you're not careful.
Fall in Genoa is possibly the best season of the year. Temperatures are mostly mild and precipitation is low and the winds are favorable.
Additional keywords: accommodations, agriculture, airports, bars, businesses, cities and towns, desert, distillery, fishing, hiking trails, historic buildings, historic homes, landscape, main street, mountains, museums and exhibits, old town, open land, parks, ranch, restaurants, rural, rustic, small town, scenery, storage, stores and shops, views, water, western, Minden, Gardnerville, Topaz Lake, Genoa, Stateline.
Other activities and attractions available to include in the production are:
Antique hunting
Art galleries
Dining
Fishing
Golfing
Hunting
Internationally renowned gliding along the Sierra Nevada
Kayaking
Paddle boarding
Local coffee shops
Mountain biking
Sailing
Snowsports
Swimming
Schools
Theater
Surrounding Area/Accessibility:
15 minute drive from Minden-Tahoe Airport. Genoa is surrounded by open fields, parks, and historic buildings.
Quick Drive:
Consider us your filming base camp. Carson Valley/Douglas County is within a day's drive of southern California, and half a day's drive from San Francisco and the Bay Area. Venture out on a "quick drive" to these close by locations:
30 minutes from Carson City, Nevada's capital – museum, the Mint
30 minutes from Stateline at Lake Tahoe – beaches, water, ski resorts, hiking and biking trails
1 hour from Reno – shopping, the arts, international airport
2 hours from Sacramento
Film Permit
Douglas County does not issue film permits, but other approval may be required depending on the location of filming or type of production.
Where do I start?
Depending on the location of filming, if you are blocking roadways, if you plan to use pyrotechnics, etc., approval may be required. Start by contacting the Planning Technician at 775-782-6217 the Planning Department. You may be referred to another agency if your project is not within Douglas County's jurisdiction.
Want to use a park or facility?
Contact that agency about use requirements. Here's a list of agencies that may require a permit or fee to use their facilities.
Douglas County Parks
Town of Minden
Town of Gardnerville
Town of Genoa
Filming on BLM or USFS Land?
Bureau of Land Management
United States Forest Service
Register your Project
Nevada law says you must register your production with the Nevada Film Office.
Do you qualify for tax incentives?
Visit the Nevada Film Office to learn more about state incentives.
Photo Credits
Zach Hooper Photography
Other photos courtesy Visit Carson Valley.
Filmography
From the Genoa Bar website: "When Raquel Welch visited us, she was asked to leave her bra. She agreed but insisted that all the other bras be taken down -and they were! Her's is the black leopard print hanging on the antlers though it's so dusty now, you can't really tell. It wouldn't be right to exclude anyone, so I take lingerie "donations" kept in the old safe. Go ahead and peek, but remember, the custom is: if you open the door to the safe, a donation is required!
A number of movies have been filmed here including "The Shootist" with John Wayne, "Charley Varrick" with Walter Mathau and Joe Don Baker, "Honky Tonk Man" with Clint Eastwood, "Misery" with James Cann, Kathy Bates, Rob Reiner and Richard Farnsworth, and most recently, (last summer) "Till the River Runs Dry" starring Ann-Margaret.
Around the mid-1980's the Coor's Beer Company came here to film a commercial. Unfortunately, the local gentlemen who were extras, didn't like Coor's. They emptied their cans, filled them with Budweiser, and proceeded with the filming!
Musicians seem to gravitate here. I've welcomed Willie Nelson, Charlie Daniels, Merle Haggard, Waylon Jennings, Johnny Cash, Slim Pickens, John Denver, and the Captain and Tennille to name just a few."
Location Map / Address
2289 Main Street
Genoa, Nevada 89411
Map It
Disclaimer:
The Nevada Film Office is not involved with final approval and/or permission to use a location for a production. Location fees, production shooting restrictions, rules and requirements are negotiated between the production and location management.
The information provided above is for the sole purpose of research by website visitors. Images and text may be copyrighted by individuals and cannot be used or reproduced without permission. No explicit permission is granted for website visitors to reproduce the content published on this web page outside the sole purpose of research.
If you would like more information about a filming location, you can fill out the "Request More Info" form below or call (702) 486-2711.
You can also visit our production directory if you would like to hire a location manager or location scout for further assistance. You can also find additional location support services in our online production directory.
Request More Info
If you would like more information about this property, please fill out the following form.